Mexico
Drugs, guns and oil: the week at the mañaneras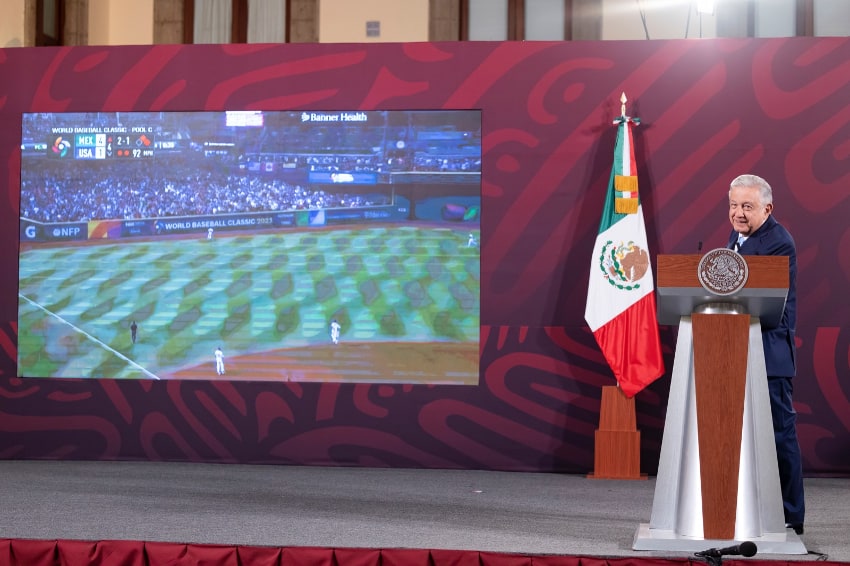 After spending the weekend on the Yucatán Peninsula to inspect progress on the construction of the Maya Train railroad project, President López Obrador returned to Mexico City to begin a new working week, which, as always, included another five-day run of 7 a.m. press conferences.
Baseball, traditional medicine, fentanyl seizures, the "rescue" of the oil industry and the political literacy of the Mexican people were just some of the topics discussed at this week's mañaneras, as the early bird pressers are known.
Monday
At the top of his mañanera, AMLO noted that it was a good Sunday for director Guillermo del Toro, whose film Pinocchio won Best Animated Feature at the Oscars, and the Mexican baseball team, which defeated the United States in the World Baseball Classic.
"Our congratulations to this exceptional Mexican, filmmaker Guillermo del Toro, he's a source of pride for Mexico," he said.
"… It's also very good news that our baseball team won, they beat the United States, … it's quite an event," López Obrador said.
During the customary Monday update on the Maya Train project, the head of the National Institute of Anthropology and History reported that the archaeological "prospecting work" along all seven sections of the railroad had been completed.
"We have now covered … more than 1,600 kilometers along the rights of way," Diego Prieto said, adding that the work carried out constituted "the largest archaeological investigation" ever carried out in the Maya region.
Over 46,000 "immovable assets" including pre-Hispanic roads, temples and residential structures were examined and some 832,000 ceramic fragments were collected, he said.
After offering a more detailed analysis of Sunday's match during which he asserted that success in baseball, like "good politics, needs "the three Cs – cabeza, corazón y carácter" (head, heart and character), AMLO opened the floor to questions.
One reporter asked the president about Ovidio Guzmán's claim at an extradition hearing last week that he is not the son of convicted drug lord and former Sinaloa Cartel leader Joaquín "El Chapo" Guzmán.
"Lawyers use these legal tactics to buy time, they're delaying tactics – they're legitimate because that's what lawyers do, that's their job," he said. "But of course it's Ovidio," AMLO added.
In response to a subsequent question about whether it is safe for United States citizens and Mexican migrants in that country to travel to Mexico, López Obrador gave an emphatic answer.
"Mexico is safer than the United States," he said. "There is no problem with traveling around Mexico safely. United States citizens know that and of course our compatriots [in the U.S.] know that. They're well informed."
After once again acknowledging – and condemning – calls from Republican Party lawmakers for the U.S. military to be used to combat Mexican drug cartels, AMLO noted that he had received a letter from President Joe Biden reaffirming his "respect toward the people of Mexico" and "our sovereignty."
"… The relationship in general [with the United States] is good but all of a sudden things come up and we have [to work] to maintain our relationship. Cooperation with the United States is very important, but without subordination," he said.
Tuesday
During the fortnightly health update, the director of the Mexican Social Security Institute (IMSS), a major public health care provider, announced that retired IMSS doctors will have the opportunity to return to work while maintaining their retirement benefits.
The government, Zoé Robledo explained, will next week launch a recruitment process to hire such doctors for the IMSS-Bienestar universal health care scheme.
"We're sure that a lot will put their knowledge and all their experience from an entire professional career at the service of IMSS-Bienestar hospitals, where we need it most," he said.
Health Minister Jorge Alcocer relieved his colleague and proceeded to wax lyrical about traditional medicine.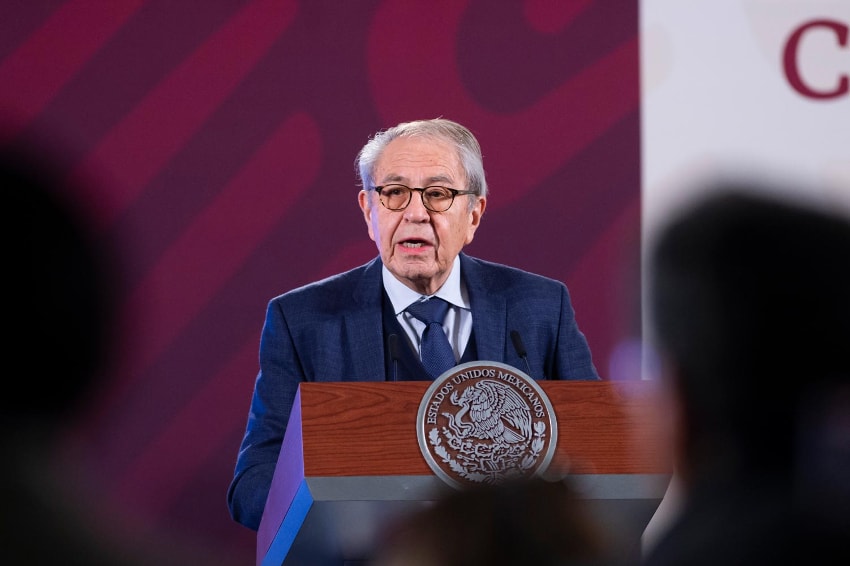 "I would like to remind all of you that thanks to traditional medicine humanity has managed to survive and fight against what has always threatened the physical, emotional and spiritual integrity of human beings: sickness and death," he said.
"… Why am I reporting this. Well, the government of Mexico through the National Institute of Indigenous Peoples (INPI) is carrying out a series of actions aimed at the promotion of community health and traditional medicine in indigenous and Afro-Mexican communities," Alcocer said.
The legislation that allowed the creation of INPI "recognizes and includes traditional medicine in the public health system," he added.
Retaking his place at the mañanera lectern, Robledo reported that 753 médicos tradicionales who "base their practice on ancestral knowledge" are employed in the IMSS-Bienestar system.
"They're part of the local and community health systems and they direct patients to health units when they identify an ailment," he said.
With his supporting cast having concluded their contributions, Mexico's preeminent political protagonist resumed his place at center stage and put himself at the disposal of the patient press corps.
One reporter broached the subject of polarization in Mexico and wondered whether it was time for a presidential call for unity.
"We have an alliance with the people, we have no problem, no differences with the people," AMLO responded.
"There is a sector [of society], an elite that defends the old regime of corruption, of injustices, of privileges. They're the ones who aren't happy, but this is normal. Why would we want everyone to think the same way? That's not democracy," he said.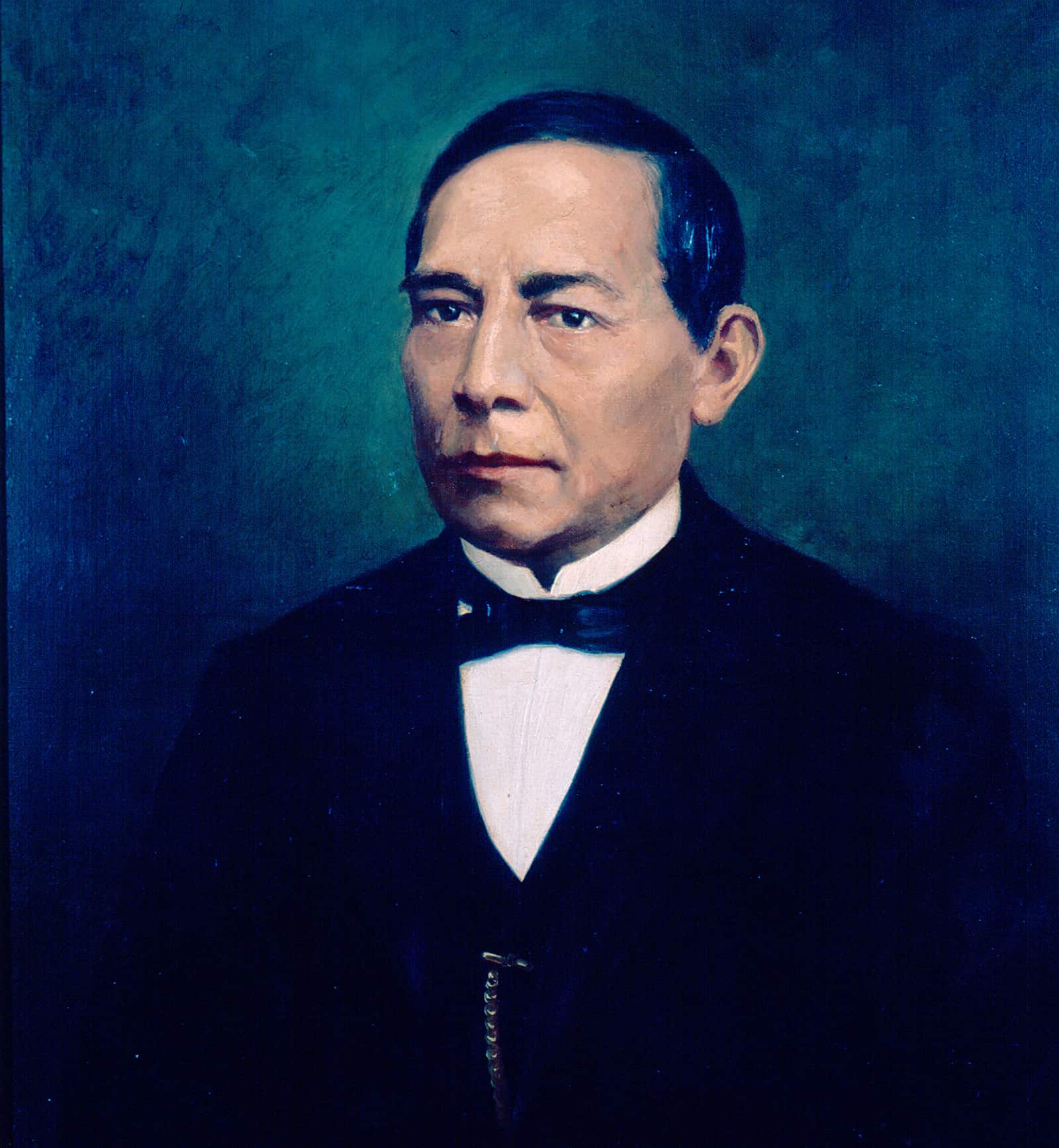 In a typically long response, López Obrador gave an overview of the three transformations of Mexican society – independence from Spain, 19th-century liberal reforms and the Mexican revolution – and declared that it was "natural" that there is resistance to his government's "peaceful … fourth transformation."
The president, a self-styled champion of the poor who has made welfare distribution a central tenet of his governance, also compared his administration to its "corrupt" predecessors.
"What assistance reached the people? None – only when there were elections; they handed out bits and pieces, gifts, groceries, construction materials, chickens, ducks, goats, sheep, pigs … beans with weevils [in them] and cash to buy votes, to get into positions [of power] and keep stealing," he said.
AMLO also responded to former president Felipe Calderón's claim that the federal government is using the conviction of his former security minister Genaro García Luna on drug trafficking charges to persecute him.
"If there was persecution, we would have already filed a [criminal] complaint against the ex-president," he said, adding that the government hasn't done so because the turnout for a 2021 referendum that asked citizens whether past presidents should be investigated for crimes they might have committed in office was below the threshold required for the vote to be binding.
Wednesday
Baseball was once again at the front and center of the president's mind because Mexico defeated Great Britain the previous night in its third match of the World Baseball Classic.
"I stayed up late because what do you know? Mexico won again, 2-1 against England. … Congratulations to all the members of the Mexican team," he said.
AMLO later directed his attention to the government's efforts to confiscate drugs, especially fentanyl.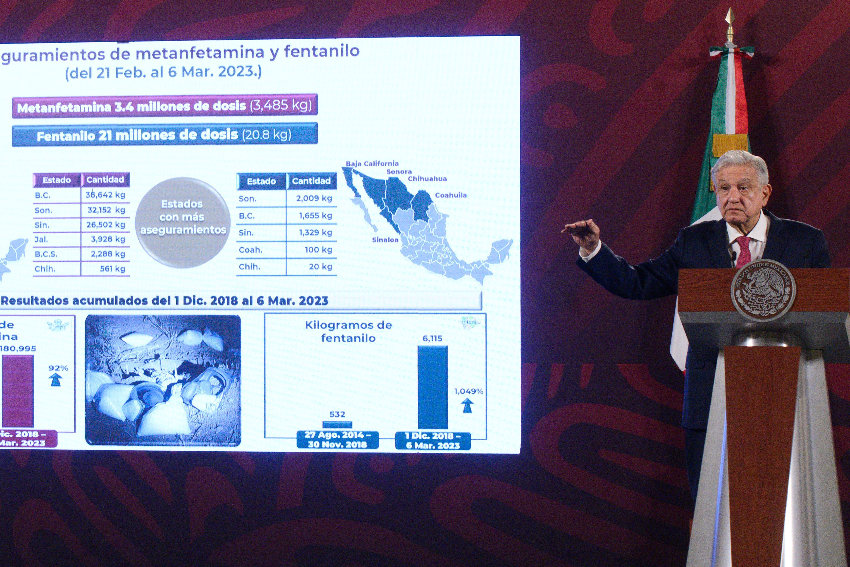 "When we took office … the Communications Ministry was in charge of ports but to establish order, to avoid the entry of contraband, of drugs, it was decided that the Ministry of the Navy would manage ports because there were ports like Manzanillo and Lázaro Cárdenas that were were practically taken over by crime," he said.
"… The decision was a good one because we've been able to seize a lot of drugs at ports," López Obrador said before pointing out, once again, that six tonnes of fentanyl have been confiscated in Mexico since he became president.
He then claimed that Mexico is doing more than the United States to get illicit fentanyl off the streets.
"This drug is distributed there but nothing is known about seizures and arrests of those who dedicate themselves to its distribution," AMLO said, overlooking frequent announcements of confiscations by U.S. authorities at the border.
Turning to another issue that affects both Mexico and the United States – gun violence – López Obrador acknowledged that President Biden had signed an executive order that aims to reduce the scourge via a range of measures including by increasing the number of background checks completed before a firearm can be sold.
"President Biden yesterday issued a resolution, a decree, for improved control in the sale of weapons, something that I'm happy about. It's a good thing that he carried out this action," he said.
"Where do the weapons that the drug traffickers in Mexico use come from? From the United States and they're bought there without any control, it's a big business," López Obrador said.
"… Eighty per cent of the weapons that criminal organizations use here – the high-powered ones – come from the United States and there's no control. You can buy a machine gun in a supermarket, in a gun store," said AMLO, who governs a country where firearms can only be legally bought in a single army-run gun store located in Mexico City.
Near the end of his presser, the president pounced on an opportunity to sing the praises of the Maya Train railroad, which is slated to begin operations in December.
"I guarantee that it's the most important project [currently] being built in the world. There's no project like this in the world because it's 1,554 kilometers long; it's like Cancún to Mexico City in a straight line," he said.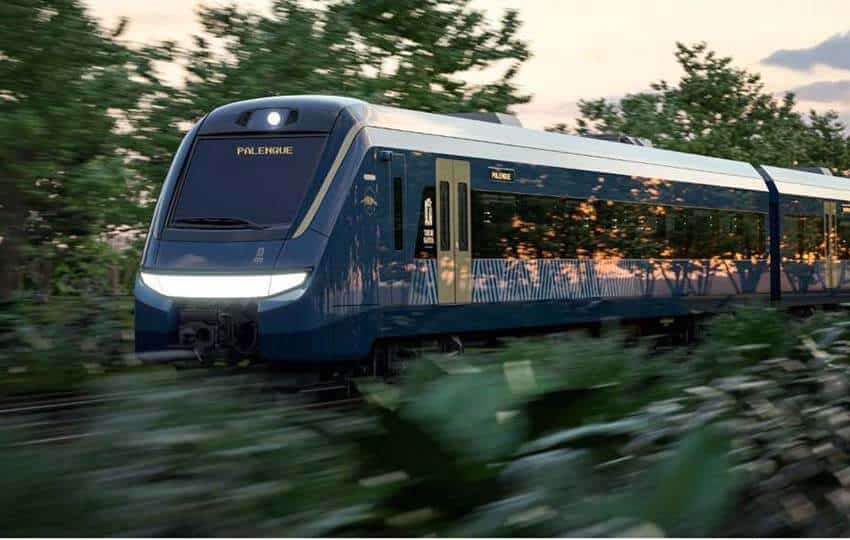 "… This is the future of the southeast, it's what will give residents of five states their income in the future, the new generations, because 30 million tourists are arriving [in Mexico annually] and with the the train … they'll go inland [from destinations such as Cancún]," López Obrador said, referring to a part of the country where there are numerous archaeological sites
"If we get 10% of those 30 million to use the train we'll give it life," he added.
Thursday
"We want to report on the progress made in the rescue of the oil industry, it's very important," López Obrador announced at the beginning of his presser.
"It was in clear decline because [past governments] wanted to destroy it. …. They left the six [Pemex] refineries … in a deplorable situation. … And in oil production, the same thing," he said.
Energy Minister Rocío Nahle reported that the government has invested just under 62.9 billion pesos (US $3.36 billion) to carry out major and minor repair projects at the refineries in Ciudad Madero, Tamaulipas; Cadereyta, Nuevo León; Salamanca, Guanajuato; Tula, Hidalgo; Minatitlán, Veraruz; and Salina Cruz, Oaxaca.
"This is a historic figure to rehabilitate Mexico's refineries and put them in optimal conditions once again," she said.
Nahle also noted that Pemex bought out Shell's share of a jointly-owned refinery in Deer Park, Texas.
With regard to refinery output, Pemex CEO Octavio Romero said that the state oil company's goal is to get to 2 million barrels of fuel per day by the end of 2023, when the new refinery on the Tabasco coast should be operational.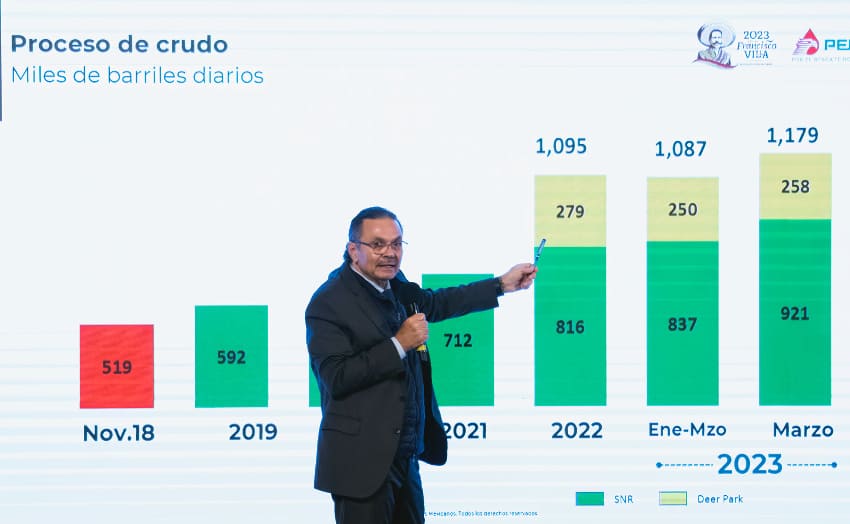 "That's the goal the president has indicated we must get to," Romero said after noting that production has gradually increased since the current government took office in late 2018.
"With these two million [barrels per day] we'll practically be guaranteeing self-sufficiency [for fuel] in our country," he said.
The government's "self-sufficiency" policy, López Obrador said when he returned to center stage, "has helped us avoid fuel price increases."
AMLO reminded reporters that when he was campaigning to become president he committed to increasing fuel production in Mexico and keeping prices down.
"We said, 'we going to stop buying fuel abroad' because among other things it's absurd that we sell the raw material [crude oil] and buy gasoline. … It's like selling oranges and buying orange juice – that's what the neoliberal policy was," he said.
The president's first question of the day came from a young man in a wheelchair.
"My name is Daniel Robles Haro and what you're hearing is a synthesized voice that helps me express my ideas. My disability is known as severe cerebral palsy," he said before asking AMLO whether he knew anything about communication boards, visual resources that can help nonverbal people communicate.
Robles pressed for the inclusion of communication boards in school textbooks and advocated making public places, and especially public bathrooms, more accessible for people with disabilities.
"With regard to the special books, we're going to ask the Education Minister Leticia Ramírez to provide an answer today. And with regard to the special bathrooms, … it would be very good to start here in Mexico City and we're going to ask the mayor to speak with you," López Obrador said.
"… It's important that it's known that we're attending to people with disabilities in a way that has never been done before. In this country all girls and boys with disabilities have a scholarship, all of them, … more than a million girls and boys," AMLO said, adding that disabled adults up to the age of 29 also qualify.
"… And now we're reaching agreements with state governments so that disabled adults aged 30 to 65 also receive a pension," he said.
In a press conference that lasted over three hours, López Obrador also touted the health of the Mexican economy, asserting that the country no longer gets "pneumonia" when the United States catches a cold.
In addition, he noted that he would meet virtually with 11 leaders of Latin American and Caribbean countries in early April to discuss ways to combat inflation and announced that the federal government would "rehabilitate" Mérida's baseball stadium, Parque Kukulcan Alamo, which he diagnosed as being in poor health.
Friday
After speaking at the Association of Mexican Banks' Banking Convention in Mérida, Yucatán, on Thursday, López Obrador held his last press conference of the week in Tabasco, the state where he was born in 1953.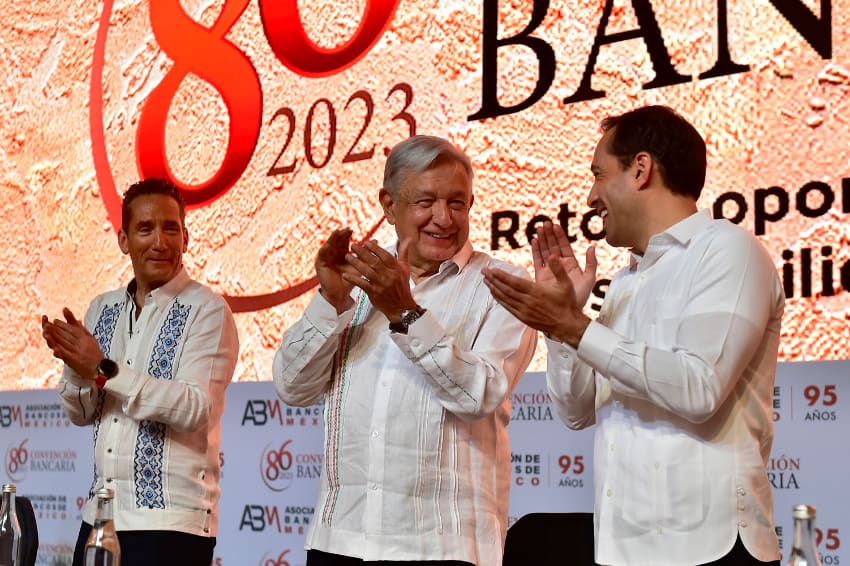 "We're here in Tabasco, in our land, our water, here beneath a ceiba, in front of this sacred tree for the Mayans, which represented the fertility of the soil and support for the sky. We are very happy to be in Tabasco," he told reporters in the state capital of Villahermosa.
Governor Carlos Merino Campos subsequently welcomed the president back to his home state and noted that he would accompany him to the new Olmeca Refinery on the Tabasco coast later in the day.
"It will produce at its full capacity this year, first 170,000 barrels [per day] and later at the maximum capacity of 340,000 barrels," said Merino, who became governor in 2021 when Adán Augusto López accepted the powerful interior minister role in the federal government.
Continuing the focus on Tabasco, National Defense Minister Luis Cresencio Sandoval provided a report on crime in the Gulf coast state, noting that it ranks 22nd for homicides among the 32 federal entities for the period since the current government took office in December 2018.
There were 1,816 homicides in Tabasco between that month and January 2023, he said, noting that the average across all 32 entities in the same period was 3,673, or 102% higher.
"In homicides per 100,000 residents, Tabasco occupies 15th place … with 76, the national average being 102," Sandoval added.
Citing United Nations recommendations, the army chief also reported that Tabasco has a "surplus" of security force members.
Counting the deployment of members of the military and National Guard as well as Tabasco police officers, there are 13,755 "operational elements" carrying out public security tasks in the state, Sandoval said.
Back in front of reporters, AMLO offered a lesson on government austerity when he was asked about a large payout outgoing National Electoral Institute chief Lorenzo Córdova is set to get.
"Austerity is not an administrative matter, it's a matter of principles. A person who earns 300, 400 or 600 thousand pesos a month in a country with so much poverty is … immoral, a dehumanized person. … Obtaining profits and accumulating money is legal and legitimate, but not in the public service," he said.
"[Public service] is to attend to others, support others, serve others. It's to serve, not serve oneself," López Obrador said.
The president said that the government attempted to reduce the "extremely high" salaries and "onerous" benefits of high-ranking officials "but in the judicial power and the supposedly autonomous bodies they maintained these elevated salaries and benefits" because they obtained injunctions against the cuts.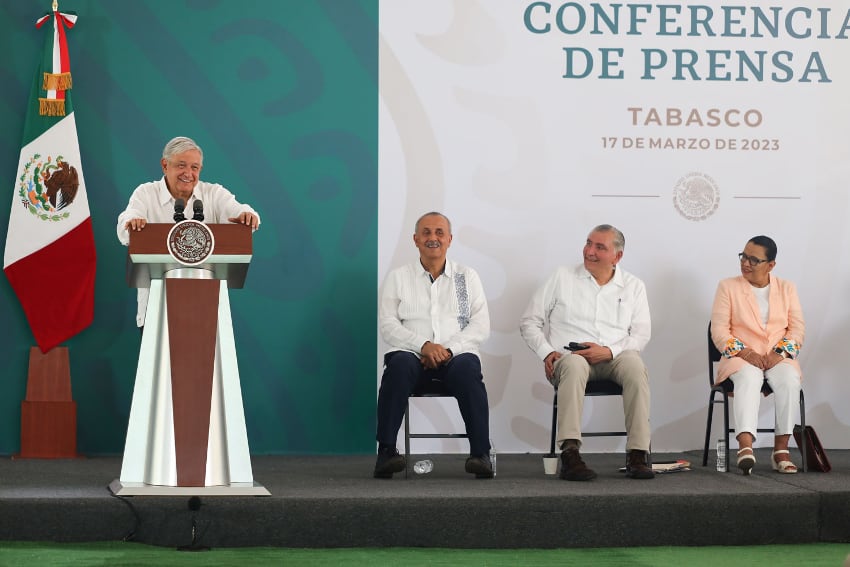 Returning his focus to Tabasco and Mexico's southeast more broadly, the Gulf state's most famous son said that the government – despite pouring money into rehabilitating, buying and building refineries – was planning for a post-oil future.
"We're thinking about the substitution of economic activities, … moving from the extraction of oil to activities like ecological and cultural tourism. There are countries in Europe that live from tourism," López Obrador said after once again touting the benefits the Maya Train project will bring to Chiapas, Campeche, Quintana Roo, Yucatán and Tabasco.
"We have something exceptional – nature," the president continued. "The creator, just as he gave us oil, also gave us water."
In his final remarks of the mañanera, AMLO took the opportunity to praise the people of Mexico – among whom he retains majority support, according to a recent poll – for their political acumen.
"The people aren't stupid. With all respect, he who thinks the people are stupid is stupid. … There is no longer political illiteracy in Mexico, we have one of the most [politically] aware populations in the world," he said.
"If you ask me what is the biggest achievement in recent times I would respond the change of mentality, the revolution of consciences, the politicization of the people," AMLO said before bidding his fellow tabasqueños adiós. 
Mexico News Daily 
Source: Mexico News Daily