Travel
My weekend spotting beavers on an idyllic rewilding estate in Scotland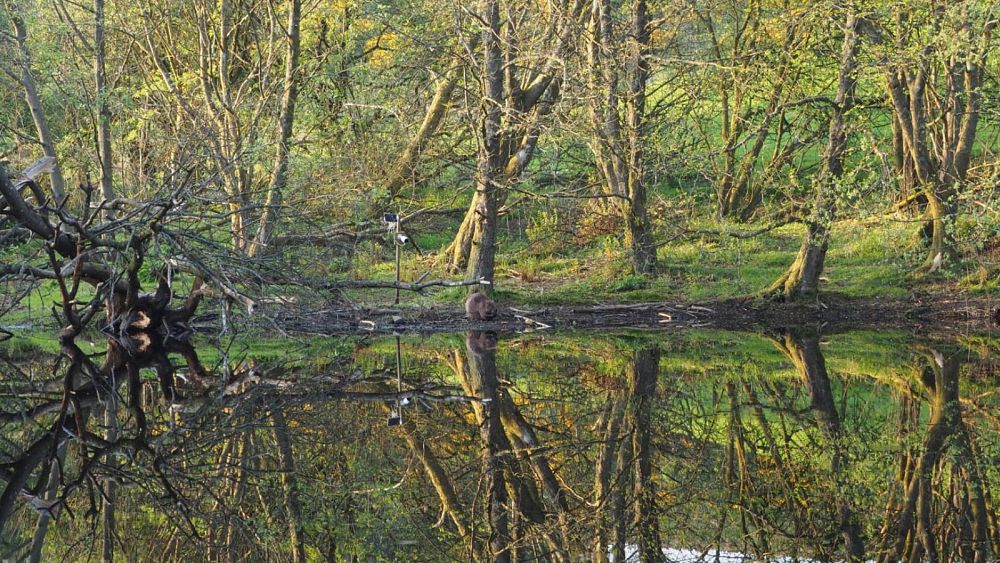 Want to reconnect with nature? At Argaty Cottage, guests share the land and skies with red squirrels, kites and ospreys.
You first spot a beaver by the ripples it makes on the water. I try to keep my eyes peeled but soon lose myself in the stillness of the pond I'm sitting next to in Perthshire, Scotland.
It's golden hour in May and the trees – gnawed to various angles – make glorious reflections. Privately, I call this kind of scene 'land before time'. It's nothing like the dinosaur cartoon I watched as a kid, but something about this messy pastoral elicits the same sense of wonder.
Once native to Scotland, beavers were hunted to extinction in the sixteenth century. Their comeback has been gradual but exciting; following a few trial years, the large rodents were allowed to remain and given protected species status in 2019.
Argaty Red Kites centre near Stirling is one of the most hospitable places for beavers – becoming the first site to translocate a family in November 2021. Lucky for nature-loving visitors, the centre runs beaver watching tours so you can see these funny, industrious animals up close.
You can even stay – as I did for a few nights – at Argaty Cottage for a fully-immersive experience on the rewilding estate. Owned by the Bowser family since 1916, it's a fascinating patchwork of a working farm sewn together with woods, fields and bodies of water where nature is back in charge.
What can you do on a rewilding estate?
"We're dreaming of big five nature tours," jokes wildlife guide Tom Bowser, keeping an insightful (though hushed) commentary during the beaver evening.
But it's within reach; the agritourism business is best known for its red kites, once-persecuted raptors which now fly over the land in breathtaking abundance.
Red squirrels jump between spruce and oak trees, in obliging view of a hide that Tom built in the wood. His dad Niall runs ATV buggy tours (Niall's on Wheels), and they've been delighted to see ospreys – magnificent fish-eating hawks – take roost this year.
There's an authentic mix of industry and opportunism at play; the livestock side has been brought into the fold too, with lambing experiences on offer in spring. In summer, children and adults can go on dragonfly walks and cool off with a wild pond dip.
In short, it's a build-your-own adventure kind of place, with Argaty Cottage providing serenely comfortable R&R whatever your day entails.
What are beaver tours like?
I'm not the most eagle-eyed of our small party of five, sat in camping chairs on the opposite side of the bank from the beaver's lodge. Another woman spots the troubling of the water as a beaver's head breaks in the middle of the pond.
We've been told to prepare for a shattering tail-slap (beaver's have bad eyesight, so it's their way of smoking other creatures out) but that doesn't come until later. Over the course of a couple of hours, we're treated to an amazing array of beaver behaviours from the family of five.
The mother – who Tom discovers is pregnant – makes a meal of a fallen tree in the water. She grooms herself on the bank, rolling back to get a good scratch and exposing iron-orange teeth in concentration. Two kits – "like little haggises" when they were born – scrap in the water.
It's astonishing to see an animal move through the world with its distinct mannerisms and trace, especially one that's so recently regained a foothold. Though clumsy on land, the beavers belong so entirely to this liquid world they're remaking in the dimming light. It's a privilege to see behind the veil.
Red kites soar in the skies
Watching the red kites in their element is a very different experience. They come like clockwork at 2pm when the team lay out some scraps of meat; not too much to make them dependent, but enough to ensure the photographers in the hilltop hide get a good show.
Their restoration story is in a later, safer chapter to beavers, but it's still wonderful to watch these huge-winged birds glide down. A plucky heron zigzags into the fray, while our guide is full of knowledge for those who want to learn more as they snap away.
I'd recommend listening out for the smaller birds too; yellowhammers and feisty blue tits flit around the feeder just in front of the main red kite hide. They'll keep you company outside the red squirrel hide too – this was my favourite place to while away some time as rain dripped through the canopy.
A short walk downhill gets you to the door of the recently renovated cottage. It's designed with every comfort in mind, from a log-burning stove to shelves lined with books and a spacious garden. Sleeping six, it's definitely cosy enough for a couple or even a solo traveller wanting a country break.
Argaty Cottage is self-catered, but there's a great kitchen to get fancy with all the local food you can find in close by Doune village. I got the train to Dunblane from Edinburgh, and it's then a 10 minute drive by taxi. There's also car parking space and room for bikes.
What else can you do near Stirling?
A little overlooked between the titans of Edinburgh and Glasgow – forming the tip of a triangle between them, each leg just under an hour – the Stirling area has plenty to recommend it too.
History lovers will be keen to check out Doune Castle (an Outlander and Monty Python filming location) as well as the epic, crag-set Stirling Castle. Deanston Distillery is the place to go for a dram of local whisky, and a look around its inner workings.
Nearby the 'jelly' bog of Flanders Moss is full of specialist plants, creatures, and secrets. This bogland used to be impenetrable to all but outlaws, until so-called 'moss lairds' and drainage programmes reshaped travel around central Scotland.
You're also in pole position for trips to Loch Lomond and the Trossachs National Park.
As part of a wider Scottish adventure or a self-contained stay, Argaty Red Kites and cottage are a real treat. Go for a feeling: of what it's like to be in a rewilded pocket of a nature-depleted country, and what the future could look like.
Argaty Cottage sleeps six and is available from October to May at £125 per night, and June to September at £145 a night. Guests get a 10 per cent discount off all Argaty Red Kites activities.
Lottie Limb was a guest of Argaty Red Kites.
Source: Euro News